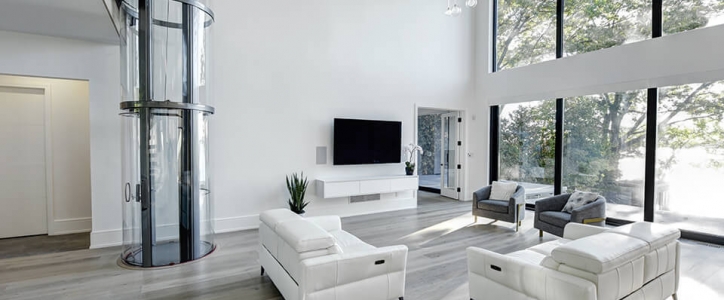 With accessible design making strides, builders' options are growing
This group doesn't want to be defined by their age or disability, Kafka says. They want their homes to reflect who they are and are rejecting institutional-looking environments and products.
"As much as I'd love to say aging-in-place is driving this change, what's interesting is that it's really being driven by the whole trend of a healthy home," Kafka says.
Sean MacGinnis and registered nurse Kyla Cullain founded Ottawa construction company BuildABLE in 2013 to address the need for renovations and home builds that provided accessibility. Recently they were tasked with renovating a multi-generational home. The transformation had to accommodate a homeowner with a disability, an aging parent and the rest of the family.
How did they achieve the client's desire for a bathroom that would be functional for all family members, yet have a modern, attractive aesthetic? Cullain and MacGinnis selected high-end fixtures including a square rain showerhead, an adjustable, hand-held showerhead and control handles that integrated seamlessly, with a square flip-down bamboo shower bench and custom vanity. They contrasted the typically harsh lines of accessibility products with softer, curved lines such as accent rings around the shower controls and towel bar, which also act as grab bars.
Elegant slip-resistant base tiles were sourced for the floor and shower walls in large sizes and solid colours, with a distinct contrast between the floor and walls. This can be critical for certain disabilities, chronic illness or aging, where depth perception can be affected, Cullain notes. Busy, colourful tiles can cause extreme fatigue and eye-strain for other types of disabilities, so it's important to know a client's unique health needs and how it will impact everyone in the home, she adds.
The toilet appears standard, but it's a 'right-height' toilet, as a few inches of extra height is easier on hips and knees (ADA-compliant toilets are 17"-19" versus the standard 15" height). Two flip-down rails were installed beside the toilet to make it easier and safer to transfer on and off the commode; family members that don't need the support can flip the rail up and out of the way.
The angled vanity can be used as a perch seat and can be functional for the use of a wheelchair in future. It has all the beautiful features of a standard vanity with pull-out drawers, solid wood design and matching countertop, as well as a convenient touch-to-light mirror.
"No one wants their home to look like a hospital," says Cullain. "In this case, we were not only able to meet the style goals of this family, but provide the safety and functionality of a barrier-free bathroom."
EQUAL OPPORTUNITY
"There is no reason people with disabilities can't have finishes of the same quality (as people who don't)," says MacGinnis. "And products like slip-resistant tiles in the bathroom or kitchen benefit everyone." Toddlers, for example, are just as unsteady on their feet as many seniors are.
One of the speakers at the LivABLE Design Summit held virtually in late October was Donna Church, Canadian Marketing and Communications Manager for Kohler, who stressed that a much higher number of Canadians want to live in their own homes as long as possible and for longer than they used to.
"We as manufacturers are focusing on this," said Church, who noted how, over the decades, the perception of the home has changed. Today, Covid-19 has resulted in the home becoming a sanctuary, and that trend will continue even after the pandemic, she notes. But whereas personal wellness used to be defined as the absence of sickness, Church says it's now more of an ecosystem of the home—one of financial, digital, social, environmental, emotional and physical health.
"Accessibility features are no longer just for people with physical issues or health conditions," Church stresses. "Someone always benefits from them."
Church believes that designers, architects, renovators and builders need to understand their clients deeply to meet their current expectations. For example, some may have health concerns they aren't comfortable sharing, so reading between the lines is necessary in order to identify the types of products required, including easy-to-clean products; uncluttered spaces; touchless appliances, fixtures and faucets; as well as multi-purpose spaces that spark joy and allow for freedom and flexibility.
"With a diverse range of disabilities and various special needs that must be accounted for, there is no one right answer when it comes to creating safe and accessible but still fashionable homes," says Ambience Design Group's Sara Abate Rezvanifar. "Always keep access in mind, and envision the world from the perspective of that person. What is comforting and relaxing, what is overwhelming and overstimulating? Try to install features and accessories that are flexible to meet needs that are different from day to day, such as mood lighting."
While Abate Rezvanifar suggests considering lowering the height of light switches so one can reach them from a seated position in a wheelchair, it's important for that lighting to be adjustable "to become less stimulating and more calming at times, but still have bright lighting adequate for performing tasks," she says.
"Adding a patterned quilt to a bed or couch can also be a valuable visual stimulus for those who need help self-regulating," Abate Rezvanifar adds. "Emphasize a few creative accessories such as fun but non-obstructive coffee tables or fuzzy couches that are comforting to the touch. But avoid over-cluttering with excessive furniture that restricts mobility."
Think about convenience in layouts, stresses Jane Lockhart of Toronto's Jane Lockhart Design. "Accessibility is really about living easily. And yes, it can be beautiful. We do our best to eliminate any floor height differences in transitions when the materials change. This is also true for showers—we're doing a lot more curbless showers in beautiful, yet practical finishes. We're designing more floating vanities with clearance underneath and undermount lighting.
"Drawers are replacing lower cabinetry in the kitchen and upper (storage) altogether," Lockhart notes.

On the appliance side, GE makes a range of ADA-compliant products, while touchless faucets from multiple manufacturers now offer rich-looking matte, semi-gloss or gloss finishes.
Kafka has also noted more creative use by designers of bathroom features like grab bars, such as parallel grab bars on the shower wall. Invisia, meanwhile, is a brand of HealthCraft Group, a fall-prevention company, and their products such as towel bars, soap trays, toilet paper holders, grab bars, and shower and bathtub seating "have really, really nice finishes in metals and cool colours," adds MacGinnis.
Elevators are becoming increasingly prevalent in the residential marketplace. Jamie Hamilton of Cambridge Elevators said when his father got into the business nearly 20 years ago, the bulk of the business was for people in wheelchairs. While Cambridge still provides solutions for people who truly need them, Hamilton says now about 90% of the projects his company does, especially in the GTA, are for people who want convenience in their lives. Hamilton has found his own home elevator useful to transport luggage, central vac hoses or a coffee station between floors.
"Elevators used to be in stark, hospital-type finishes, but now they are decked out to fit with the design of the home," he says. "Our elevators are mostly concealed behind a standard swing door, although we do have commercial doors. If it's done properly, it's not an appendage."
Manufacturers that supply the industry are stepping up with more and more design features and finishes, with woodgrain ceilings, walls or floors, Hamilton notes. Clients can also be provided with a blank canvas to finish to their own tastes with paint, trim and millwork.
"We are seeing more modern finishes lately than in the past decade," he adds. "My own elevator is MDF (medium-density fibreboard), painted white with an accent strip of walnut veneer. People can add a personal touch. I had a client who was into cars, so we used a veneer that looked like carbon fibre."
In larger projects, some homeowners are making their elevators centrepieces, opting for glass cabs and LED lighting strips. Clients have requested stainless steel interiors and built-in storage for bottles and glassware, while another wanted a bar fridge and storage, so that the bar would be available at any floor.
At the LivABLE Design Summit, Sara Walsh-Rooney of global elevator and lift manufacturer Savaria said lifts and/or elevators can make every area of the home accessible without forsaking style. For example, outdoor deck lifts can be open or enclosed, with stainless steel frames with glass inserts and a choice of paint colours for the tower. Residential elevators that can serve up to six stops offer a large range of finishes or can be customized. They can be tucked discreetly into a corner or hallway or become a design feature, such as a panoramic elevator with integrated hoistway that can run through an existing circular staircase, centred in a room or attached to a balcony or mezzanine to make a design statement. They come in round or octagonal shapes in glass or acrylic with custom colours—and the colours can change from floor to floor!
Jenna Kressler and Mike Linka of TA Appliances say suppliers are offering a lot more ADA-compliant appliances such as dishwashers, under-counter refrigerators and freezers, and wall ovens and cooktops that can accommodate wheelchair users. They work with developers, builders and homeowners, including recently with non-profit organization MennoHomes on an affordable housing project that will have 15 to 20 accessible units in a 54-unit development. Most of the residents of accessible units have disabilities that are not physical in nature. Technology makes it easier for them to operate appliances, as well as those with physical challenges who may have trouble turning knobs or dials, but are able to use a touchscreen.
"Some vendors have more smart technology than others," says Kressler. "You can get ranges, hood ventilation, laundry appliances. You can turn on or pre-set the appliances from an app on your phone that you download. It's really helping those with disabilities, but I don't think anyone is marketing to that segment."
Kafka says touchless products are advancing too, including kitchen faucets that can be told how full to fill a water glass.
Overall, housing design is paying more attention to the different needs of each member of a family, rather than a one-size-fits all approach, Kafka says. "Covid has taught us we all have to function in that space."
While open-concept layouts have been popular, they don't work for everyone, she notes. "More walls are going up, as not everyone wants to have to go to the bedroom for privacy—be it to work, have a Zoom call or virtual medical appointment. People may also need walls to guide them if they have poor vision or to hold on to if they have balance issues."
Outdoors, the unattractive ramps of the past leading to front doors have become subtle and attractively integrated into landscaping, such as with curving, sloping paths of stone or concrete, or built into a porch design and hidden behind railings. Elevators with a stop in the garage, meanwhile, can eliminate the need for a front ramp at all.
There are rapid advances being made, particularly in Europe and Japan, in development of new home products and improvements on existing ones, Kafka shares. In the not-too-distant future, for example, a toilet may be able to assess homeowners' urine for medical issues.
These products are going to make it even easier for people to not be defined by age or disability. And they will further blur the lines between accessibility features and the home as a sanctuary of wellness and personal design—while doing so in style.